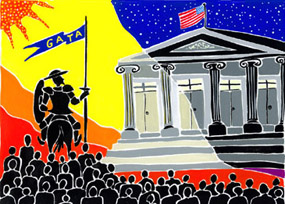 gata.org / From Deutsche Welle, Bonn, Germany / Wednesday, August 23,2 017
http://www.dw.com/en/germany-repatriates-gold-reserves-ahead-of-schedule…
Germany's central bank has completed an initiative to bring half of the country's gold reserves home three years ahead of schedule, as it repatriated all of its gold kept in Paris and a third of its reserves in the US.
The Frankfurt-based Bundesbank said today that half of Germany's 3,378 tons of gold had been brought home from New York, London, and Paris, where it had been stashed for many decades to avoid it falling into the hands of the Soviet Union during the Cold War.
In a recent shipment, some 374 tones of the metal, 11 percent of the German stock, left the vaults at the Bank of France, while 300 tones had been removed from the Federal Reserve in New York to the Bundesbank vaults in Frankfurt, board member Carl-Ludwig Thiele told journalists.