---
What is the actual cost to mine silver? - wildcaktus - 03-16-2012 01:31 AM

Hi

Does anyone know what the actual cost is involved in mining silver?

Thanks.......Paul


---
RE: What is the actual cost to mine silver? - victor kruger - 03-16-2012 07:19 AM

Depends on the mine and size just like running a household energy bill depending on the size and local, taxes etc ... but we can get an idea.

According to the Silver Institute in 2010, the cash cost from primary mine production was $5.27 an ounce..but

CASH COST: The costs of onsite production including by-product credits as well as transport, refining, onsite administration costs and royalties.

What isn't included in the cash costs are depreciation, depletion, amortization, general and administration, exploration, interest expense, and taxes. This is not a complete list, but you get the idea.Even if you have a very low cash cost, it doesn't guarantee profitability.

Let me give you an example. In 2008, Hecla had a silver cash cost of $4.20 oz. Even though the average price of silver in 2008 was $14.99 oz, Hecla had a Net Income loss of $66.5 million.

Have a look at the chart below for an example of different companies.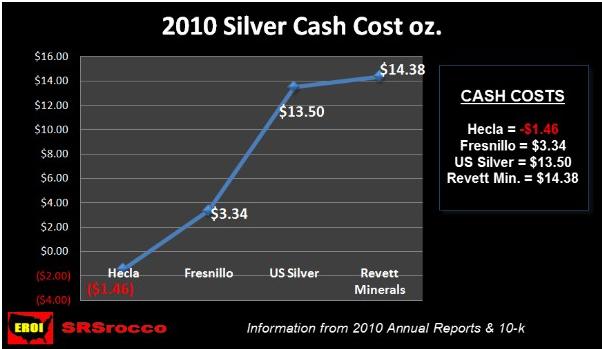 As you can see from the graph above there is a range from Hecla's negative cash cost of -$1.46 oz to Revett Mineral's cash cost of $14.38 oz. Basically, Hecla is mining silver for free when you factor in all their by-product credits from gold, lead and zinc.

THE COMPLETE COST OF MINING SILVER.

To get a more complete cost of mining silver,take net income at end of the year from each mining company and divided it by their total sales. This turns out to be a percent. That percentage figure is subtracted from 100% and then multiplied by the average price of silver in 2010…which was $20.16 oz. Again, it does not factor in the sales of silver vs. silver production as well as other items including differentiation of by-product credits between different mining firms. I believe that most by-product metal sales from the majority of mining companies' are sold at market value or similar in price to their competition. As you can see there are so many variables, but at least this method gives the investor a better idea of how much it really costs a mining company to profitably produce silver. Here is an example below: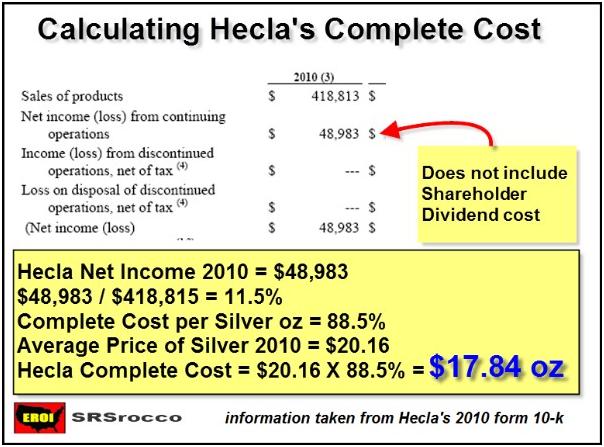 Cash cost is of course a fraction of the true complete cost so with all that said lets put it on a final graph.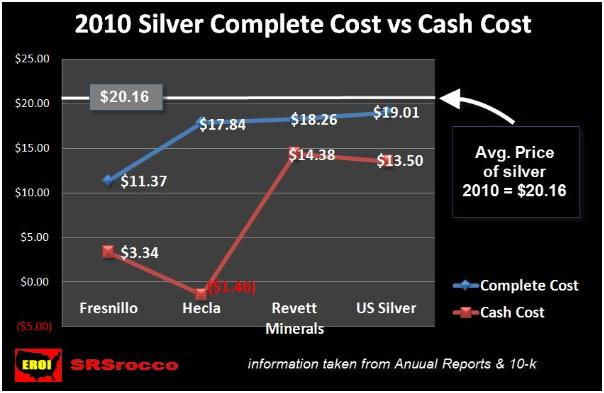 Obviously there is no solid number as all mines and costs are different but you can take an average total complete cost of the four companies above of $ 16.62 in 2010 and apply it worldwide or just use a rounded figure of $17 and use that as a rough worldwide real cost guideline.


Details and charts taken from http://www.marketoracle.co.uk


---
RE: What is the actual cost to mine silver? - kramerprammer - 03-16-2012 10:10 AM

Wow Victor nice research!


---
RE: What is the actual cost to mine silver? - Dom2012 - 03-16-2012 12:42 PM

http://www.youtube.com/watch?v=t0dODJGm3dM

watch that ....and tell me silver isn't undervalued !!!!!!!!!!!!

from what i see it has to be found first > them mined> the mine makes 1000oz 95% pure silver bars> which are sold to a refiner> who brings it up to 99.99% pure and processes it in to different forms for coin blanks or industrial use> this is then sold to the mints who strike the blanks into coins, box them up and sell them to the public.......

and you're telling me all that can be done for $32/oz in this day and age?.... no way
---
RE: What is the actual cost to mine silver? - Dom2012 - 03-16-2012 12:44 PM

and this http://www.youtube.com/watch?v=wEhWLDWo-p8&feature=related


---