wolfstreet.com / by Wolf Richter /  
Fed's assets drop to lowest level in over three years.
The Fed's balance sheet for the week ending December 6, released today, completes the second month of the QE-unwind. Total assets initially zigzagged within a tight range to end October where it started, at $4,456 billion. But in November, holdings drifted lower, and by December 6 were at $4,437 billion, the lowest since September 17, 2014: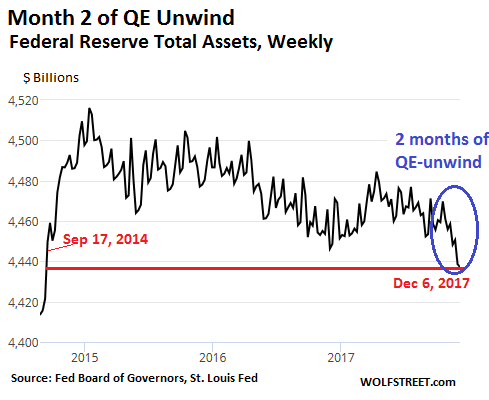 "Balance sheet normalization?" Well, in baby steps. But the devil is in the details.
The Fed's announced plan is to shrink the balance sheet by $10 billion a month in October, November, and December, then accelerate the pace every three months. By October 2018, the Fed would reduce its holdings by up to $50 billion a month and continue at that rate until it deems the level of its holdings "normal" – the new normal, whatever that may turn out to be.