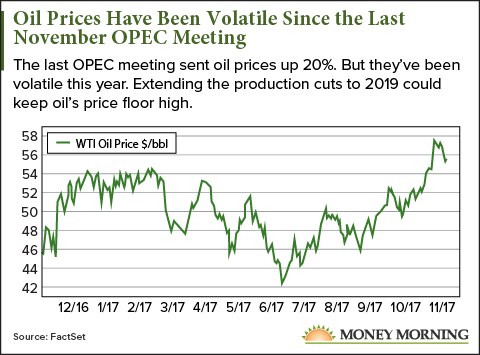 wallstreetexaminer.com / by Dustin Parrett Via Money Morning / 
The last November OPEC meeting sent oil prices rocketing 20% higher in less than a month, and this year's Nov. 30 meeting will be just as important for the energy market…
OPEC's current agreement – the one negotiated during last November's meeting – caps the total oil production of OPEC and 11 other countries. The agreement limits oil production to 32.5 million barrels a day, a 1.8 million-barrel-per-day reduction from last year.
By capping oil production below 2016 output, the cartel is helping end the global oil glut that sent prices tumbling from $107.95 a barrel in June 2014 all the way down to $26.19 by February 2016. That was a 75% drop.
In fact, the compliance rate among OPEC members for the production cap reached a high of 120% in September. That means they cut even more oil than the agreement asked them to.