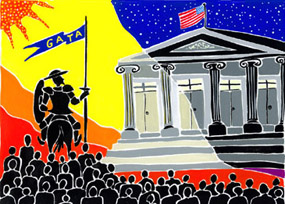 gata.org / By Ranjeetha Pakiam / Wednesday, November 22, 2017
The Old Mutual Gold & Silver Fund, which manages $220 million of mostly precious metal equities, is jumping on the bitcoin wagon.
The fund started buying in April with a mandate to allocate as much as 5 percent to cryptocurrencies, according to its manager, Ned Naylor-Leyland. The idea is to take profits from bitcoin as it advances and reinvest them in gold and silver assets, he said in an interview on Nov. 16.