gold-eagle.com / by Mark J Lundeen / August 8, 2012
Below is the balance sheet for the Federal Reserve. Here we see the vast increase in the supply of US dollars flowing through the world's economy since 1953. This is the reason for bubbles and crashes in financial assets, and our current rising prices in commodities.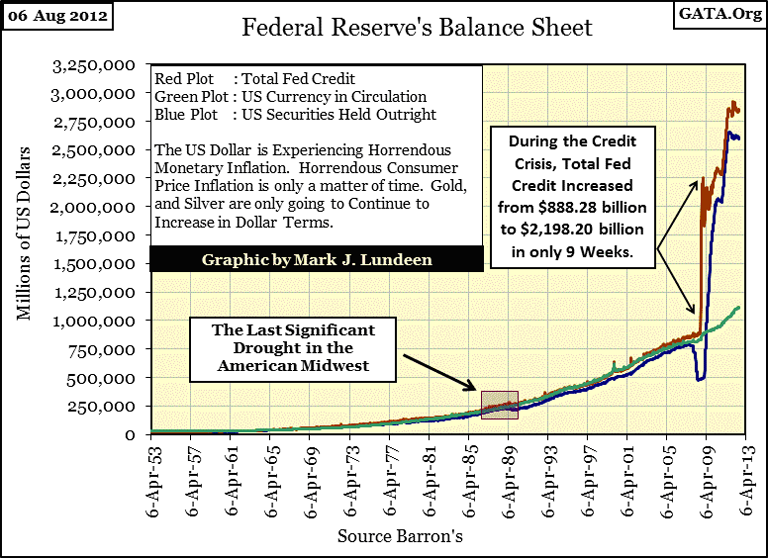 Remember, monetary inflation doesn't flow into gold, silver, corn, soybeans, or even copper. Monetary inflation is "injected" into financial assets like stocks, bonds and the mortgage markets by central banks, resulting in "bull markets" for these "policy" favored markets. But, while the ability of central banks to create currency is unlimited, the ability of financial markets to absorbed "liquidity" is not.
Look at this thirty year US Treasury Bond issued in 1997. Signs of "liquidity" saturation are very apparent in the chart below. Fifteen years after it was issued, its current yield (Red Plot) has collapsed from 6.64% to 1.91% in June, just weeks ago, but has increased to 2.08% at the end of last week. This decline in bond yields, in all markets, is not for reasons of natural supply and demand fundamentals. This decline in yield is from market intervention (manipulation) by the Bernanke Fed with their operation "Twist." Sure, Federal Reserve can create enough artificial demand in the US Treasury Bond market to make this US T-Bond's yield decline to below 1%, but at what cost to the financial markets, and ultimately to the cost of living in the years to come?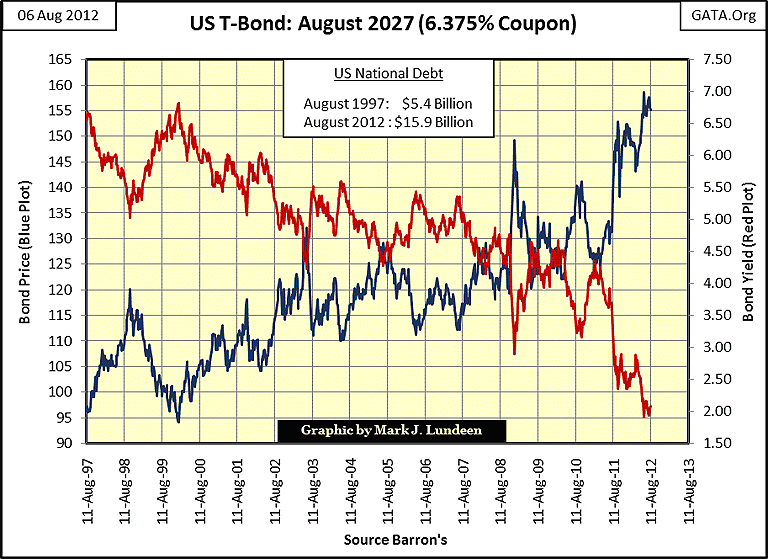 No doubt Doctor Bernanke believes that he and his "policy" now controls the prices and yields in the US Treasury bond market. But in the end, it will be the bond market that controls every aspect of "monetary policy" for the Bernanke Fed. Once the good doctor started manipulating T-Bond yields downward, he can't stop without allowing natural market forces to revalue the US T-bond market. T-bond yields would rise to levels that he and Washington will find unacceptable, for fear of another, but worse financial collapse on Wall Street than we saw in October 2008.