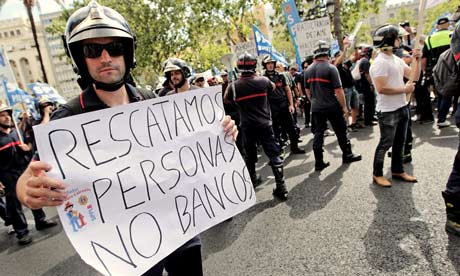 Firefighter's signs reads 'We rescue people, not banks', during a demonstration in Valencia, July 2012. Photograph: Manuel Bruque/EPA
guardian.co.uk / By Larry Elliot / July 23, 2012
Policy in Europe is all about playing for time. The big picture ideas for saving the single currency will take years, not months, to come to fruition – but the threat of collapse is immediate.
So the short-term mindset is all about survival: think the football team that parks the bus in order to defend a 0-0 scoreline or the batsmen whose sole aim is to occupy the crease when their team is facing an innings defeat on the last day of a Test match.
For a while last week, there was the real prospect that Europe's backs to the wall effort had succeeded. Last month's summit had more substance than the previous content-free affairs, and the rally in European financial markets last week reflected the belief that enough had been done to keep things calm through August. That, though, was until the Spanish region of Valencia announced that it needed financial help from Madrid, providing the trigger for a big sell-off in the markets that continued on Monday.
The response from the Spanish government was to swear blind one minute that there was not the remotest possibility of a full-blown rescue involving the International Monetary Fund and to impose a ban on the short selling of shares the next. The markets were suitably unimpressed by this display of ineptitude