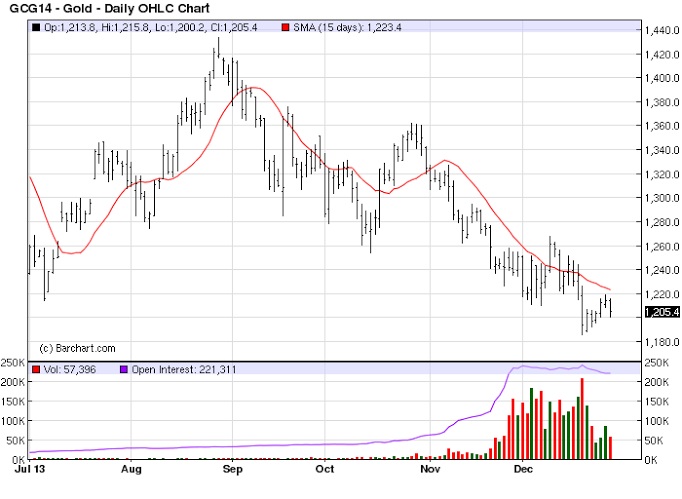 gold-eagle.com / By Cliff Droke / December 30, 2013
Trading volume across all exchanges has been muted lately due to the holidays.  Traders are still mostly on vacation which has produced low volatility and a lack of excitement.  Not much is going on in the news front, either.
There was one news headline recently that was quite conspicuous, however.  A news site known as the Deccan Chronicle published a story on Dec. 25 entitled, "Lift of import curbs may crash gold prices."  The story was in reference to the Indian government's proposal to relax import duties on gold.  Dharmesh Bhatia, of  Kotak Commodities Services Ltd., was quoted in the article as predicting a gold price crash if the Indian government removes the duties on gold imports or even relaxes the curbs significantly.
Mr Bhatia said that Barclays Bank had stated that commodity-linked investment funds are headed for record outflows in 2013 and between November 2012 to November 2013, there has been a $88 billion decline in assets under management.  The article stated that investors had withdrawn $36.6 billion from commodity funds during this period due to the decline in prices of sugar, coffee, nickel, gold, silver, and other resources.  By far the biggest decline, however, was witnessed in gold, with a 29 per cent crash after a rise over nearly 11 years.  EPFR global estimated that investors have withdrawn $38.8 billion investments from gold funds alone.