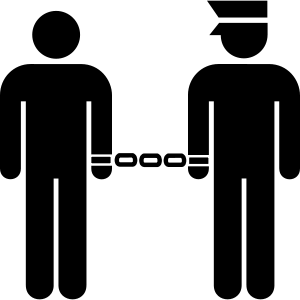 endoftheamericandream April 17, 2012
When did we decide that it was okay to treat very young school children as if they were terror suspects?  When I was growing up, I don't remember a single time that the police ever came to my school and arrested anyone.  But now police are being called out to public schools at the drop of a hat.  All over America, very young school children are being arrested and marched out of their schools in handcuffs in front of all their friends.  For example, down in Georgia the other day police were called out because a 6-year-old girl was throwing a tantrum.  The police subdued her, slapped handcuffs on her and hauled her off to the police station.  Instead of apologizing for this outrageous incident, the police are defendingthe actions of the officer involved.  But this is not an isolated incident.  All over the country young kids are being handcuffed and mistreated by police.
The following are 10 more disgusting examples of very young school children being arrested, handcuffed and brutalized by police all over America….
#1 At an elementary school in Baltimore recently, three nine-year-old girls and an eight-year-old boy were arrested for fighting and marched out of their elementary school in handcuffs.  The police department is defending handcuffing these kids….
"It's our policy, regardless of the age, when a suspect is arrested by police, they're handcuffed. And the reason is just not for the suspect's safety but also for officers' safety," Det. Jeremy Silbert of the Baltimore City Police Department said.
#2 In New Haven, Connecticut a 10-year-old boy was actually arrested by police for giving another student "a wedgie" on a school bus.
#3 Just last year, a 5-year-old boy at a public school in Stockton, California was arrested by police and handcuffed with zip ties because he was committing "battery on a police officer".
Really?
How much damage can a 5-year-old kid really do to a police officer?
The boy was ultimately sent to a hospital and forced to undergo a psychiatric evaluation.
#4 A 6-year-old girl down in Florida was "throwing objects, hitting administration personnel and screaming uncontrollably" so police handcuffed the 40 pound little girl and shipped her off to a mental institution for evaluation.
#5 In San Mateo, California a few months ago a 7-year-old special education student was blasted in the face with pepper spray because he would not quit climbing on the furniture.  Police were then able to subdue the boy and he was "committed for a psychiatric evaluation".