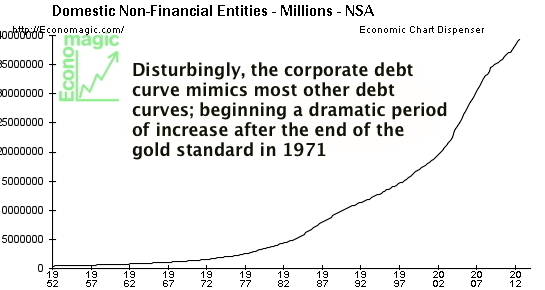 marketoracle.co.uk / By Andy Sutton / Feb 09, 2013 – 01:58 PM GMT
With Graham Mehl…  In the most recent copy of the St. Louis Fed's 'Regional Economist', two of its researchers query the status of corporate cash. Specifically, they're interested in why companies are hoarding so much of it. Normally, such an article wouldn't be noteworthy, but in this case we feel that delving into such an issue will be of assistance in terms of helping the average person to understand the truly broken nature of our economic and monetary systems.
During the course of the article, the researchers pose what would be considered normally expected explanations for this pile up of cash: tax-avoidance, structural changes in the business environment, and even the cost of research and development. We don't doubt that these are probably among the subset of correct answers, perhaps with a few additions varying by particular fields. However, we found it much more interesting and instructive to ask where the cash came from than why it was being accumulated. The media, especially in America, has gone out of its way to portray a robust economic recovery. This would lead one to conclude that these piles of cash came from business activity. We'll see if the data and trends validate that conclusion.
Certainly we get the sense in our daily conversations that people are starting (finally) to realize that something is wrong, but it is hard to get into a detailed discussion because most willingly profess at least some level of ignorance to the tenets of corporate finance. Our goal, therefore, is not to craft a treatise on corporate finance as there are already too many of them, but to rather distill out the most pertinent information so the average person can form a basic understanding of money at the corporate level and what the hoarding of money by corporations in the aggregate tells us about everything going on around us.
If one is to understand investments, it is imperative that a basic understanding of how monetary strategy at the corporate level plays out in terms of financial statements, ratios, and such. Corporations are indeed loaded with cash, especially when compared with historic measurements. Let's pose a couple of questions, then provide the reader with information to answer them as we progress.
Is it possible that captains of industry know which way the wind is blowing regarding interest rates, the macroeconomic environment, and the capital markets?
Is this a trend that is spanning out amongst all business or are the numbers being skewed by certain sectors?
What role does government interference (either positive or negative) have on the cash strategies of corporations?
What is the likelihood that there are 'hidden agendas' at work regarding the hoarding of cash, especially considering the fragility of the dollar standard system?