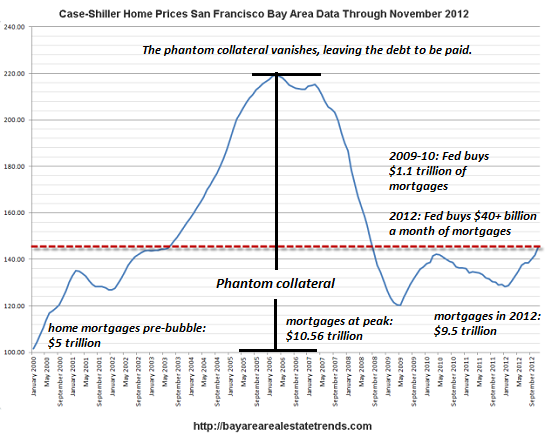 charleshughsmith.blogspot.com / By Charles Hugh Smith / February 4, 2013, 6:34 PM
To claim a "recovery" based on unlimited Central State borrowing and spending and central bank manipulation of asset valuations is self-sustaining is beyond absurd.
The mainstream media (MSM) is overflowing with stories proclaiming the global economy is on the mend: Europe's crisis is in the rearview mirror, China's growth has rebounded, Japan is aggressively pursuing Keynesian Nirvana and the U.S. economy is in the sweet spot between resurgent housing prices and ever-higher corporate profits.
This reality is the reason global stock markets have surged: everything's getting better.
The goal of every Central Planning scheme on the planet is a self-sustaining recovery:that is, one that doesn't require another couple trillion dollars, euros, yen or yuan to keep it from collapsing in a heap.
Though the conventional punditry is hesitant to declare victory, by reading between the lines we know the basic propaganda thrust: we are over the hump, the recovery (in housing, stocks, bat guano, etc.) is now self-sustaining.
Really? Based on what engine of growth? If we cut through the Keynesian jargon of aggregate demand and other Cargo-Cult mumbo-jumbo, what we find is the Status Quo is hoping to boost its precious aggregate demand with the same bag of tricks that imploded so spectacularly in 2008: the wealth effect based on phantom collateral created by Centrally Planned asset bubbles.
Central Planners in America have had remarkable success in inflating an asset bubble in stocks–five year highs!–but alas, the wealth effect is limited by the inconvenient reality that only the top of 10% of households own enough stock to feel any wealth effect from a market that has more than doubled in four years of Fed intervention and unprecedented fiscal profligacy.