mybudget360.com / By mybudget360 / February 2, 2013
As the animal spirits of the economy rage wild, there are still difficult challenges ahead for younger Americans.  While the stock market is up highlighting corporate euphoria, many companies are doing this with 4 million fewer workers.  So the economic recovery is not evenly distributed and they rarely are.  Yet younger Americans are still facing tough challenges ahead.  One major trend has to do with many people going back to college.  While education is positive, the costs are becoming incredibly high and many simply cannot afford it.  This is why total student debt outstanding is now over $1 trillion.  Why is this so important?  Well for one, we are seeing data showing that recent graduates, those in the last decade, are not yielding solid gains from their ventures into college.  With 4,000 colleges in the US, many are subpar and many are designed as vehicles to extract student loans.  How is this economy treating younger Americans?
The trend for college
One piece of data that is very telling is the number of students enrolled in college: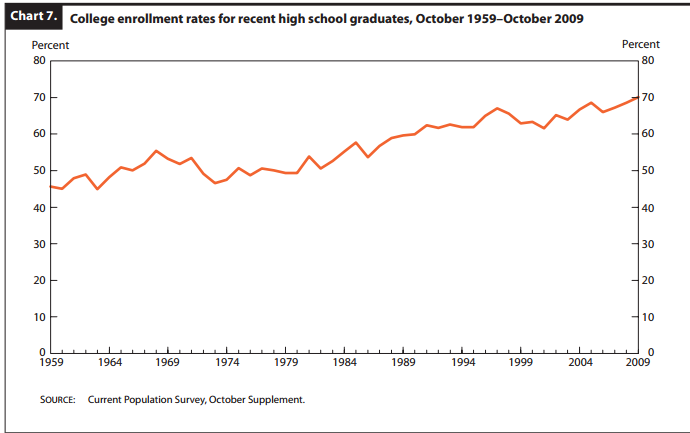 What does the above chart tell us?  For one, it shows that more high school graduates are going to college.  Over 70 percent of high school graduates now enroll in college.  Those finishing college is much lower of course, below 30 percent.  However the above chart may not tell the entire story.  We have to account for the rise of women attending colleges as well.  This is also one of those important points to understand where in the past, one income was sufficient for a middle class lifestyle while now we are deep into a two-income trap.