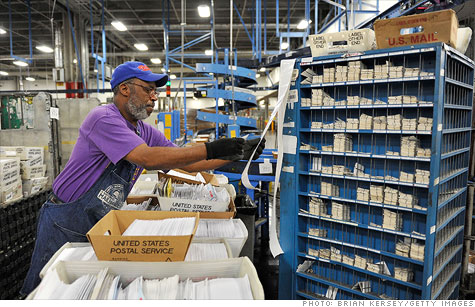 zerohedge.com / By Tyler Durden / 01/28/2013 12:36
The US Postal Service may be a woefully overstaffed anachronism of a bygone era, with a painfully mismatched cost and revenue structure, which last year reported a massive, and record, $15.9 billion annual loss for the last Fiscal year, but that doesn't mean it is going away without a fight. As of yesterday, the USPS valiantly hiked the price of first-class mail by another 2.6%, to 46 cents, up from the 45 cents which in turn was hiked a year previously. Alas, somehow we doubt this latest increase in pricing which is supposed to keep up with inflation, will do much for the long-term viability of the government service which employes some 500,000, and which has warned would run out of cash by October 2013 for two simple reasons: the ongoing collapse in mail volume sent via the USPS (with free or more effective alternative widely adopted), and a cost structure that unlike the revenue side, has managed to stay leaps and bound ahead of inflation courtesy of some rather vocal labor unions.
The WSJ reports:
The price of sending a first-class letter in the U.S. rose a penny Sunday to 46 cents as the Postal Service continues to struggle with eroding mail volume due to expanding reliance on email and the Internet to communicate and pay bills.

The increase comes just a year after the cash-strapped Postal Service pushed the stamp price to 45 cents, and follows the November announcement that the agency reported a record $15.9 billion annual loss for the fiscal year that ended Sept. 30. At that time, the Postal Service said it would run out of cash by October 2013 without congressional intervention.

There are several proposals before Congress to help keep the Postal Service financially viable, but no action has yet been taken. Agency officials couldn't be reached Sunday, but a statement on its website said the increase was prompted by the "urgency of our current financial challenges."
The fallback plan instituted some time ago has been the USPS' "Forever" model, which includes the forever stamp for domestic and international deliveries:
The Postal Service also has added a new global Forever stamp that allows customers to send letters anywhere in the world for $1.10.

Prices will increase by an average of 2.57% across each class of mail, according to the Postal Service. For a first-class postcard mailed in the U.S., the price is rising a penny to 33 cents. Fees on other services, such as post-office box rentals, also went up.
Alas, not even a far greater increase in prices will do much to dent a far more insurmountable issue: the relentless grind lower in USPS volumes by both first-class mail, as well as regular.