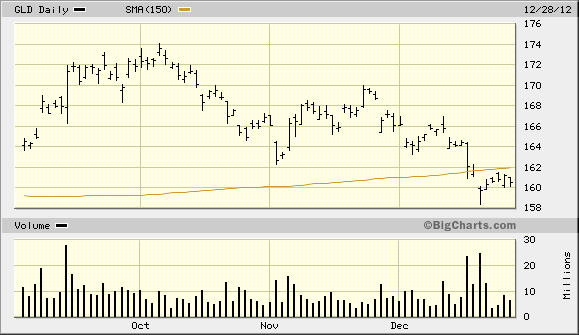 marketoracle.co.uk / By Clif Droke / Dec 30, 2012 – 09:09 AM
The price of gold has been hit by selling under concerns over the upcoming U.S. "fiscal cliff." At least that's what the news media's explanation for gold's decline has been. Here's what Reuters had to say in a recent news article:
"U.S. stocks sold off late in the day to close at session lows on Wednesday as talks to avert a year-end fiscal crisis turned sour, even as investors still expect a deal….
"President Barack Obama and congressional Republicans are struggling to come up with a deal to avoid early 2013 tax hikes and spending cuts that many economists say could send the U.S. economy into recession."
Now here's the problem with trying to apply "rational" analysis of the news headlines in making gold price predictions: because the financial markets are by nature irrational and volatile, you can never know from one day to the next how the market will react to a certain piece of news or legislation.