doctorhousingbubble.com /  By FeedBurner / December 27, 2012
The Case Shiller data is showing a steady increase in home prices across the United States.  The headline figures are clear but rarely make the connection that much of this gain is coming on the back of unprecedented Federal Reserve intervention.  Data is clear that household income is not making any significant gains.  These gains are coming largely from added leverage produced by lower mortgage rates.  We'll go into the details on this but you will see how a tiny drop in mortgage rates can supercharge home prices especially in a market where inventory is tightly managed as the year comes to a close.  The Case Shiller is a better measure of home prices because it looks at repeat home sales.  Yet even here we are seeing signs of bubble like activity in a handful of markets.  An echo housing bubble is a possibility in many markets.
Echo housing bubbles
The Case Shiller figures reveal some strong gains in certain areas.  Let us take a look:

Phoenix is an interesting case because since the bubble first burst, it has been a market dominated by investor money.  The first boom was brought on by easy money in the initial round of the housing bubble.  Prices collapsed but big investor money has flowed into the market pushing home prices up 21 percent in the last year as measured by the Case Shiller.  This is interesting because Arizona household income is actually down 13 percent from the peak in 2007: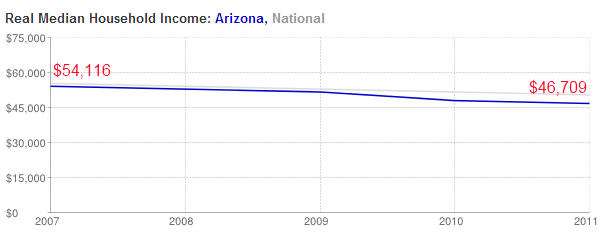 So doesn't it seem odd that home prices suddenly shot up 21 percent in the last year when incomes have actually gone down?  Of course much of the activity is coming from investment funds and investors.  About 40 percent of all buyers in 
Phoenix last month were investors
.  Other places like Miami and Las Vegas are seeing similar trends.  That is, local households have seen their income fall yet home prices are now rising sharply courtesy of external forces.  The Fed with low interest rates has pushed big money to flow out of the banks to chase yield in real estate.  It is ironic that Wall Street that typically looked down on being a landlord is now very much in the game.