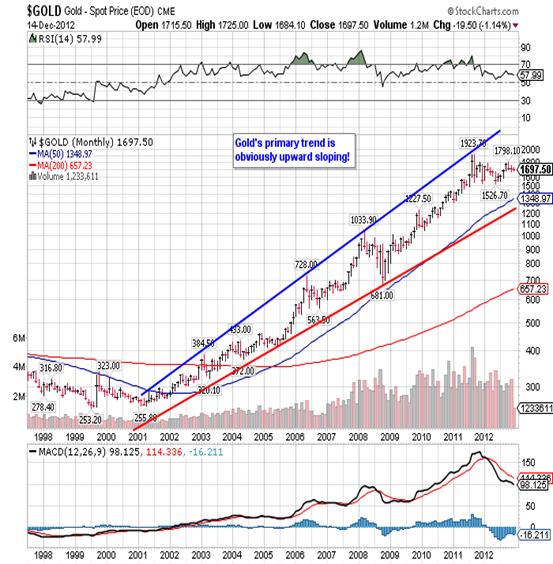 marketoracle.co.uk / By Robert M. Williams / Dec 18, 2012 – 06:35 PM
Robert M. Williams writes: Whenever you invest there are two things you want to keep in mind. The first is whether or not you will get your capital back and the second is how much can you make considering the risk you have to take. With respect to the second, the possible return on capital must always be greater than the risk you are going to have to accept. In today's world of "too big to fail", quantitative easing to infinity, and debt expansion at an almost exponential rate, it´s hard to judge risk. Markets are being manipulated by central banks across the board. Look at the Libor scandal! The English justice system will put mid level employees of some UK financial institutions in jail for doing what the Bank of England requested, i.e. manipulate the Libor rate. Meanwhile, the "big fish" will swim free.
Such an atmosphere makes "trading" almost impossible. Trying to catch the daily or weekly trend, unless you are privy to insider information, is a losing proposition. So what is the alternative? You have to find a market where there is an identifiable primary trend, and then take a position while there are still several years left in the move. That is easier said than done! In the first place most investors do not have the time or inclination to do the research needed to make such a determination. Unfortunately, the majority of investors dedicate more time to buying a wash machine than they do to what goes into their IRA. That's where we come in, and this is what we discovered.