doctorhousingbubble.com / By Dr. Housing Bubble / December 7, 2012
Earlier this week I woke up to a couple of e-mails of readers unfortunately confronting much higher rents.  "My landlord suddenly hiked up the rents by 10 percent!"  This seems to be a common trend for 2012.  Especially in locations with investor and flipper activity, many are realizing that they can yield higher rental rates or simply sell the house in the current environment.  As the housing bubble burst, more and more Californians became renters thus increasing the supply of those looking for units available for lease.  In LA and OC rental construction has been nearly non-existent so supply is limited.  Many are simply confronting higher rents in the face of stagnant incomes.  Some stories talked about how owners were increasing rents by up to 20 percent in key areas.  Yet I have heard very little stories like this for the Inland Empire or the Central Valley.  Let us look at the trends that hit in 2012 for California real estate.
The decline of homeownership
The California homeownership rate peaked right along with the housing bubble: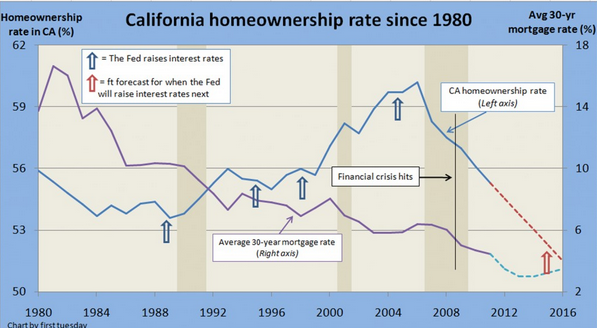 The current homeownership rate is now back to levels last seen in the mid-1990s (right back where inflation adjusted incomes are landing).  As discussed in an earlier article, many middle class Californians have left the state from 2000 to 2010.  What you have is foreign money coming in and also, at least since the bubble burst, Wall Street investors coming in buying property.  Most of the population gain was not because of domestic migration in the last decade which is interesting.