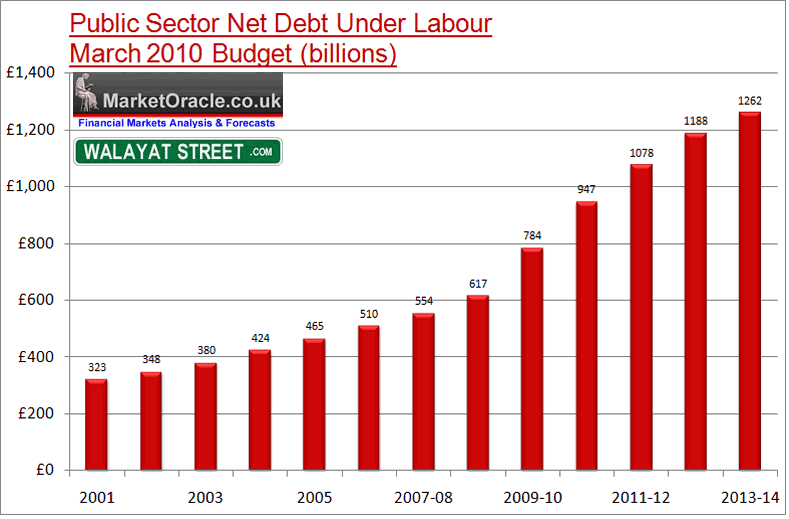 marketoracle.co.uk / By Nadeem Walayat / December 03, 2012 – 01:04 AM
The focus of this article is on Britains debt dynamics as the people of Britain continue to be bombarded with propaganda in respect of the unfolding Inflationary Depression that the country has been immersed in since at least early 2008. In terms of politics, propaganda takes the form of declarations for ever greater needs for economic austerity by the Coalition government whilst the Labour party as usual takes the opposite line, when the reality is that there has been no real net economic austerity in Britain, as there has been no cut in government spending and hence the deficit continues to persist let alone any actual repayment of debt that continues to expand by about £120 billion per year.
Meanwhile the Bank of England continues to play its role in the economic propaganda war by playing the always imminent deflation card that is regurgitated at length by academics and pseudo economists in the mainstream press when the reality is that the UK as is the case for most western nations such as the US is immersed in an exponential inflation mage-trend that results in the stealth theft of wealth to finance government spending for the purpose of buying votes.
The Coalition Government as illustrated by the Prime Minister, David Cameron's series of speeches re-iterating the UK governments efforts towards cutting the governments budget deficit, and actual repayment of debt before the end of this parliament (2015) for which there is an ever present need for economic austerity which translates into deep cuts in government spending -
David Cameron – 10th October 2012
"Here's the truth: the damage was worse than we thought, and it's taking longer than we hoped. The world economy – especially in the Eurozone – has been much weaker than expected in the past two years. When some of our big trading partners like Ireland, Spain and Italy are suffering, they buy less from us. That hurts our growth and makes it harder to pay off our debts."
Fact - No Debt has been repaid, Instead UK government debt continues to accumulate at the SAME rate as it would have done under a Labour government.